PHII Online Weatherization Training
Interactive training courses for weatherization professionals
Home
Manufactured Home Weatherization Course
This course provides a history of the building codes that govern manufactured homes. Manufactured housing is the only type of housing construction in the US that is regulated by federal law. The age of the home is a telling factor in many of the insulation standards and other construction details.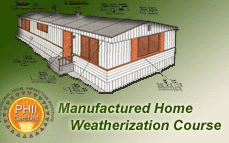 This course covers the possible weatherization measures that are proven to reduce energy loss. Because every home is unique, the specific measures for a home will be those that are determined to be cost-effective and achieve the most improvement in overall energy efficiency. Also a part of this course are instructions for how to properly perform remediation in manufactured homes.
Throughout the course, you will learn from text, audio, videos, images, diagrams, electronic flashcards, practice quizzes, learning activities, and more!
What You Will Master:
Understanding the major factors that contribute to weatherization deficiencies in a manufactured home (mobile home).
Identification of areas where insulation and ventilation efficiency is strong or weak.
Application of weatherization concepts to manufactured homes.
Mitigation of insulation defects with proper weatherization techniques.
Proper remediation of inadequate insulation / ventilation in manufactured homes.

And much more...
Manufactured Home Weatherization Course Lesson
s
→

Common Terminology


→

Background and History


→

HUD Code and Standards


→

The Manufacturing Process


→

Energy Inspection and Reporting


→

Insulation and Weatherization



Enroll in Manufactured Home Weatherization Course