PHII Online Weatherization Training
Interactive training courses for weatherization professionals
Home
Energy Audit Diagnostics
Course Objectives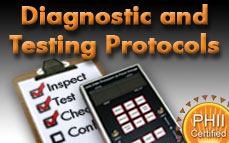 This course will teach you the energy audit process with the procedures and testing protocols used in energy auditing and diagnostic testing. The course includes information about blower door testing, duct leak testing, thermodynamics, furnace / combustion appliance testing, and much more!


What You Will Master:

The Energy Audit Process consistent with Department of Energy (DOE) guidelines.
Thermal imaging (IR cameras) and how it applies to diagnostics tests and energy audits.
Blower door tests and how these tests are performed.
Auditing / testing furnace system.
Terminology used in energy audits / energy audit reports.
Testing for air leaks, duct leaks, and furnace / combustion appliance testing

And much more...
This course includes discounts up to $1200 on an IR camera purchase. These discounts can save you more than the purchase price of the course!
Energy Audit Diagnostics Course Lesson
s
→ Energy Use and Measures

→ Energy Audit Process

→ Thermal Imaging

→ Blower Door Tests

→ Testing for Duct Leaks

→ Combustion Appliance Safety Test

→ Furnace Testing
Enroll in the Energy Auditor Course Package today!