PHII Online Weatherization Training
Interactive training courses for weatherization professionals
Level 1
Thermal Imaging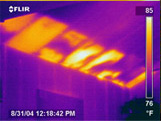 Go beyond the basics and complete Professional Home Inspection Institute's Level 1 - Thermal Imaging Course. This 40-hour course exceeds basic camera operation and meets the course specifications for non-destructive testing outlined by The American Society for Nondestructive Testing, Inc. (ANST).
Level 1 Thermal Imaging covers both the physics behind thermal imaging and the operation of infrared technology. Specific topics include:
Instruments
Scales and Conversions
Heat Transfer Modes (Conduction, Convection and Radiation)
Radiosity Concepts (Reflectivity, Transmissivity, Absorptivity and Emissivity)
Spacial Resolution
Error Potential
Operation of Thermal Imagers
Support Equipment
Calibration
Image and Documentation Quality
Detecting Anomalies
and much, much more.